While I am relieved that some of the more restrictive provisions about teachers in House Bill 153 (HB 153), the state budget bill, were eliminated upon its passage, I am left to ponder how the state will reconcile the bill's wording and Race to the Top's (RttT) requirements so that RttT funds are not sacrificed — particularly if SB 5 is not repealed.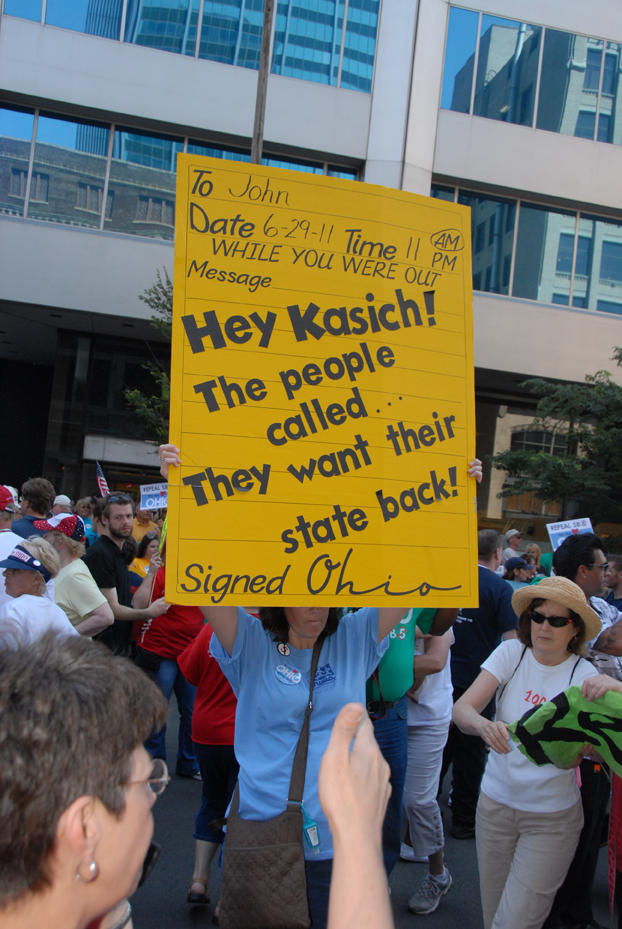 The lack of funding to Ohio schools will be catastrophic, to say the least. Gov. Kasich may divert countless dollars to charter schools, meaning existing public schools will try to offer college programs, high caliber sports programs and a large variety of classes, including advanced placement courses, with scarcer resources. At a time when state legislators have made it clear funding for public schools will decrease by millions in the next few years — as long as Republicans are pulling the purse strings — hundreds of millions of dollars are at stake.
More than 500 Local Education Associations (LEAs) — equal to 1 million school children — have agreed to participate in the RttT's initiatives, all of them agreeing to Memorandums of Understanding about merit based pay, measures of student growth, and teacher and principal evaluations. Nearly all of Franklin County LEAs who have been awarded RttT funding are on board with the necessary reforms needed to retain those funds.
The Senate wanted to remove from HB 153 language imposing specific teacher evaluations and performance pay outside of the collaborative process that LEAs agreed to in the Memorandums of Understanding. House Speaker William Batchelder called it "crazy" that the language was pulled
As it stands, OEA says the budget language in HB 153 is creating widespread confusion as to what is required to comply with RttT agreements and the new state law. OEA states that HB 153 does not override any Collective Bargaining Agreements in existence.
The State Board of Education (SBE) will have to develop an evaluation framework by December 31, 2011. RttT districts will not be impacted until the 2012-2013 school year. By July 1, 2013 all school districts and Education Service Centers must conform to the SBE framework.
What needs to be worked out is the local districts' policies so that they align with the state framework and the LEAs' Memorandums of Understanding. This may not be easy, but the OEA suggests that those RttT districts should continue to work with their districts to iron out problems since new types of evaluations are not imminent.
Interestingly, money and contracts are already being handed out for RttT consultants across the state. Some have dubbed this new legislation as "No Consultant Left Behind." Implementing change is not cheap and finding specialists who can analyze data so that we can understand the impact of change will not be easy. Slated for statewide impact is $194 million dollars, while $206 million will end up in participating school districts.
Don't forget that in order to make the changes necessary for the grant, money has to be set aside for travel allowances for teachers, money to pay substitutes to teach while they are away, money to rent space for training venues, the supplies necessary to train the teachers, and stipends and travel expenses for international experts.
As a librarian who writes grants, I understand that they always come with strings attached and the strings with RttT, the changes required, will be costly. It takes time to train teachers and pilot programs. It takes experts to assemble data. Reports will need to be written and analyzed.
Yet somehow our Governor and state legislators seem to think change of this magnitude can be magically made with just a pen and a signature. Or maybe they think our children aren't worth the $400 million. For the sake of Ohio's children let's pray November 8th will have a good outcome. Or else Ohio will not be in the Race to the Top. We will be in a short race to the bottom for the worst schools in America.
Download "Frequently Asked Questions About HB 153 and Evaluations, Performance-based Compensation and Seniority."
By Susan Ridgeway, Streetsboro Education Association