2022 Summer Leadership Academy | June 15-17
June 15 @ 8:00 am

-

June 17 @ 5:00 pm

2022 OEA Summer Leadership Academy
Our Power to Make a Difference: Past, Present, and Future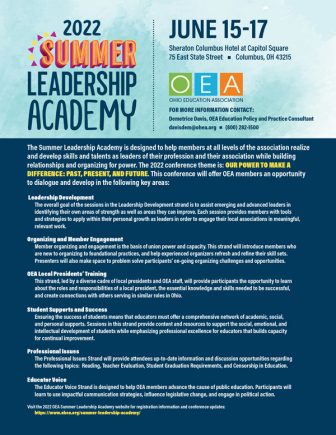 The 2022 OEA Summer Leadership Academy will offer OEA members an opportunity to dialogue and develop in the following key areas:
Leadership Development
The overall goal of the sessions in the Leadership Development strand is to assist emerging and advanced leaders in identifying their own areas of strength as well as areas they can improve. Each session provides members with tools and strategies to apply within their personal growth as leaders in order to engage their local associations in meaningful, relevant work.
Organizing and Member Engagement
Member organizing and engagement is the basis of union power and capacity. This strand will introduce members who are new to organizing to foundational practices, and help experienced organizers refresh and refine their skill sets. Presenters will also make space to problem solve participant's on-going organizing challenges and opportunities.
OEA Local Presidents' Training
This strand, led by a diverse cadre of local presidents and OEA staff, will provide participants the opportunity to learn about the roles and responsibilities of a local president, the essential knowledge and skills needed to be successful, and create connections with others serving in similar roles in Ohio.
Student Supports and Success
Ensuring the success of students means that educators must offer a comprehensive network of academic, social, and personal supports. Sessions in this strand provide content and resources to support the social, emotional, and intellectual development of students while emphasizing professional excellence for educators that builds capacity for continual improvement.
Professional Issues
The Professional Issues Strand will provide attendees up-to-date information and discussion opportunities regarding the following topics: Reading, Teacher Evaluation, Student Graduation Requirements, and Censorship in Education.
Educator Voice
The Educator Voice Strand is designed to help OEA members advance the cause of public education. Participants will learn to use impactful communication strategies, influence legislative change, and engage in political action.
Keynote speakers

Opening Keynote – Princess Moss
Princess R. Moss, an elementary school music teacher from Louisa County, Va., is vice president of the National Education Association, the nation's largest professional organization. Previously, Princess was NEA secretary-treasurer and had primary responsibility for managing and maintenance of the Association's multimillion-dollar budget.
At the local, state, and national levels, Princess is a respected, unwavering champion of children and public education. As vice president, she helps to guide the Association's mission of fulfilling the promise of public education to prepare every student to succeed in a diverse and interdependent world. For Princess, an important part of that work includes being a staunch, outspoken ally of students, educators, and families who represent communities that have been historically marginalized. These include Black, Brown and indigenous communities, LGBTQ+ communities, students with disabilities, and those who move through the world representing the ways in which these communities intersect. Read her full bio here.

Closing Keynote – Karen Hough
Karen Hough is the Founder & CEO of ImprovEdge, a #1 Amazon bestselling author, contributor to the Huffington Post and recipient of the Athena PowerLink Award for outstanding woman-owned business and the Outstanding Women award from the WNBA's Indiana Fever. Karen's second award-winning book, "Be the Best Bad Presenter Ever" was published by Berrett-Koehler in 2014. Her new book on improvisation in change management and innovation, "Go with It: Embrace the Unexpected to Drive Change," was published in October 2017 by the Association for Talent Development.
A graduate of Yale University, Karen's first life was as a professional improviser and actor. She trained with Chicago's Second City, did over 100 theatrical productions, and was featured in radio, TV and film. She lived a second life as a successful executive in network engineering. Finally, she became an entrepreneur. She is a Certified Speaking Professional and has presented to audiences of thousands in the US and internationally.
ImprovEdge is a government-certified Women's Business Enterprise and helps companies transform behavior through interactive training. Their client list includes NBCUniversal, KeyBank, JPMorgan Chase, Nationwide, and Cardinal Health to name a few.

Registration closed on June 6.
For questions about the OEA Summer Leadership Academy, please contact Ellen Adornetto (adornettoe@ohea.org) and Daria DeNoia (denoiad@ohea.org), or call OEA at (800) 282-1500
Related Events