Cincinnati Reds' Educator Night — June 14th
June 14 @ 7:10 pm

-

9:00 pm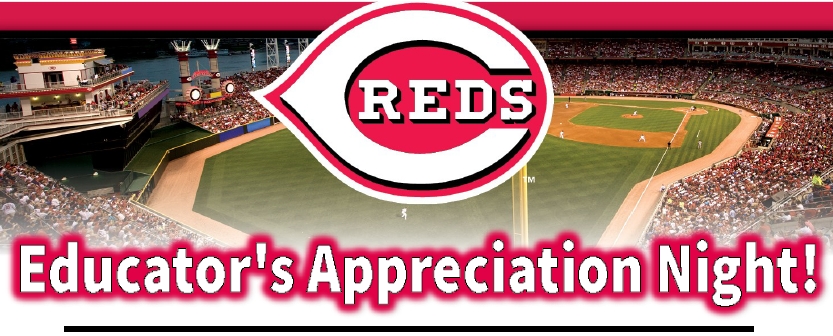 The Cincinnati Reds is inviting educators of kinds — teachers, counselors, classified staff, and administrators — to the Great American Ballpark for its 1st Annual Educators Appreciation Night Friday, June 14th at 7:10 p.m. as they  take on the Texas Rangers. The Reds' have dedicated this night to all the hardworking educators across the state for successful school tear.
•  View Level: 15.00 (and a $10 concession credit)
•  Mezzanine Level: 25.00 (and a $10 concession credit)
•  Infield Box Level: 50.00 (and a $20 concession credit)
The concession credit mat be used for food, beverages or other  merchandise within the stadium. To order tickets, click or visit: GroupMatics.events/EducatorsAppreciation2019. Click here to download an event flier.

Oh Yes, We're Social — Join the Conversation!

Related Events