OEA Representative Assembly — Dec. 1st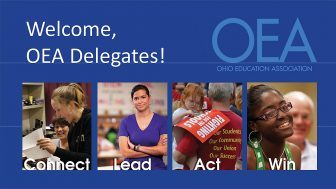 The Representative Assembly (RA) is the policy-making body of the Ohio Education Association. It is comprised of members who have been elected as delegates to represent their Local Associations.
Any member is welcome to attend an OEA-RA as a guest. However, per the OEA Constitution, its bylaws, provisions and policy, only recognized delegates may participate in debates and votes.
DELEGATES >> Click HERE!
Additional questions or concerns should be directed to the OEA Elections & Conference Coordinator, William Baird, at 800‐282‐1500, ext. 3169 (614‐227‐3169), or by email, bairdw@ohea.org.
Related Events