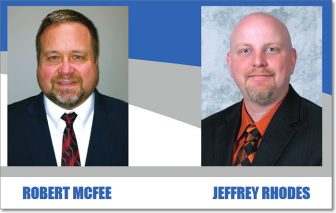 Ohio Education Association's endorsed candidates Robert McFee and Jeffrey Rhodes have been elected to the State Teachers Retirement (STRS) Board. Both terms begin Sept. 1, 2018, and conclude Aug. 31, 2022.
McFee is a mathematics teacher for Willoughby Eastlake City Schools / Willoughby Eastlake Teachers Association. Rhodes is a technology education teacher for North Royalton City Schools / North Royalton Education Association.
The election results were certified May 12 by a board of tellers appointed by the STRS Board and the Election Services Company — an independent firm administering the election. A total of 16,510 ballots was cast, representing an increase of more than 2,000 votes from the previous year.
Recently, the STRS Board also recognized retiring OEA Secretary-Treasurer Tim Myers (Elida Education Association). Myers has served as a contributing member on the STRS board since 2008. He has served on the OEA Board of Directors since 1998. He has also served as a Northwestern Ohio EA Representative (Unit II), as a NEA Director, and as an OEA Officer. He was elected to his current position as the OEA Secretary-Treasurer in 2012 and has served two terms as the top elected budget and finance officer.
Myers will complete his term as OEA Secretary-Treasurer as well as retire from teaching. Mark Hill (Worthington Education Association), was elected Secretary-Treasurer May 11 and will begin his three-year term July 15 , 2018.


Oh Yes, We're Social — Join the Conversation!