You association has conducted a community power study and has identified both targets and messages that will advance your local's goals. Now comes the fun part, coordinating a campaign around the goals identified in your power study. Just as in the first part of the community power study, this step also provides new tasks for emerging leaders. For example, let's say that a district has two board members that it wants to influence. In this situation, an emerging leader can be given the responsibility to lead a small team to influence one of these members. Through ongoing follow ups these new leaders can practice timelines, coordinating members, and provide feedback on the local's strategy. By allowing them to delegate responsibilities in a small group, you help develop their capacities for future tasks.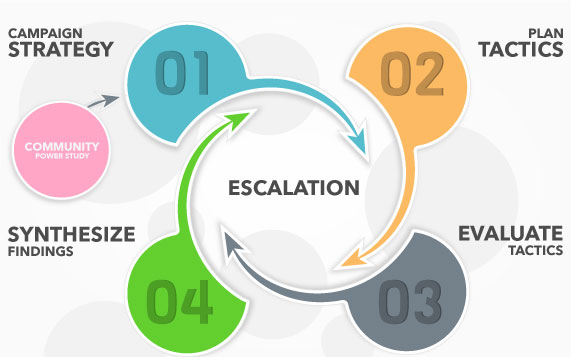 STEP 1: From Strategy to Tactics
The results of your power study will provide the broad outlines of your campaign's strategy: what you want, who you need to influence, how you'll influence them and what messages you'll use. Furthermore, as part of your campaign your local should also set goals for member involvement. At this time a group of your members will have to develop tactics that address your power study and campaign goals. For example, your power study identified the local booster club as one of the influential groups in your community, and by putting pressure on the board they could help your local's current contract negotiations. Your tactics team suggests the following; have the school's coaches attend a booster club meeting, have coffee with the president of the booster club, participate in the club's charity breakfast, and/or volunteer at a sporting event through the club. The team must then think about outcomes and resources and determine what activity or combination thereof would provide leverage over the negotiations and help the local to get its message out. In addition, your team should rate particular tactics on an escalation scale to determine what tactics are appropriate for member capacity and will. Your tactical plan should identify your targets, tactics, participants, messaging, and a timeline for implementation and evaluation.
Plan: Commit 10 boosters to attend the next board meeting and then present their support of your union to the local media.
STEP 2: Evaluate and Synthesize
After you have attempted one or two tactics, a group should be convened to review outcomes and revisit your community power study. The first goal of the group would be to see whether your tactics met any of your strategic goals as developed in your power study. Did these tactics produce new targets, goals, or even a new campaign strategy? Did your local achieve its goals of member involvement? If the tactics seemed to produce little or no results, it would indicate that the local may need to escalate its tactics. In contract negotiations, a strike is your ultimate tactic and you should escalate your tactics and member involvement well in advance of a strike.
Often a secondary result of your tactics will be to provide new information that can strengthen your power study, allowing you to both focus on your targets and fine tune your union's messaging.  In this evaluation session, the group should develop a timeline in which the newly proposed tactics will be tested and then evaluated.  Through evaluation and synthesis of new information, you can continue to improve and escalate your strategies and tactics in order to meet your association's goals.
By Matt Ides, UniServ Organizer