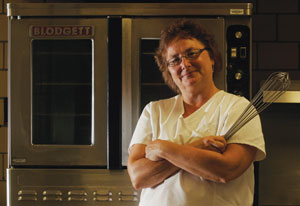 My name is Tina Adams, and I am the lunch lady. Every school day for the past 27 years, I have cooked healthy meals and nutritious treats to feed hundreds of hungry kids. For many of my students, the food I serve may be the only meals they receive all day. I keep my students' bellies full, so teachers can feed their minds.
Working in the school cafeteria, I recognize if my kids aren't learning because they're hungry. If my students aren't eating their vegetables, I know it. I also keep a watchful eye on students who suffer from diabetes or have dietary restrictions. From the time the bell rings in the morning, to when school lets out, I'm their mom.
Not only do I serve as head cook at Prospect Elementary School in Mansfield, I'm also a mother of five children.
We need to rebuild the American Dream and Ohio's middle class, but Issue 2 works to dismantle it. Issue 2 is unfair, unsafe and hurts my students and working families like mine, that are just trying to make ends meet.
If Issue 2 passes, I won't be able to help my students get what they need to succeed—and that's just wrong. That's why on November 8, I'm serving up a big  helping of NO on Issue 2.
—Tina Adams, food service worker, Mansfield, Ohio