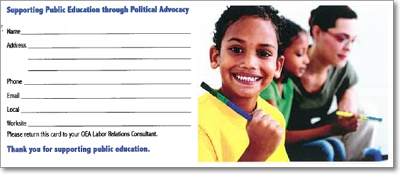 As an educator, or an education support professional, and a member of the Ohio Education Association, I believe….
Every student, regardless of zip code, deserves a great public education in a safe and well-maintained learning environment.
Students need access to modern technology and materials in their classrooms.
Educators and parents need a seat at the table when decisions are made that impact classrooms.
Every student deserves to learn from a caring, committed educator who has adequate resources and the professional support they need.
I will commit to taking the ME+3 Pledge online or by signing the card (pictured) available from my OEA Labor Relations Consultant. The ME+3 Pledge reaffirms my support of pro-public education candidates who will fight to address the needs our students and educators this November. Similarly, I will share with at least three friends, family members, or neighbors and ask them to pledge their support as well.
Click here to learn more about the 2018 November ballot and the OEA-endorsed Candidates. Looking for ways to become further involved in Campaign 2018? Join the Educators for Ohio Facebook group and consider becoming a Local E.A. Campaign Coordinator.