2018 NRCP Conference
April 27-29, 2018 ~ Seattle, Washington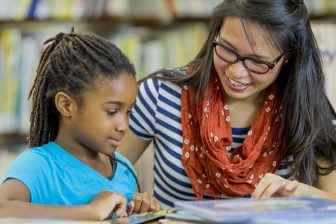 NEA and the Washington Education Association are proudly co-sponsoring the 34th Annual National Resource Center for Paraeducators Conference, which is taking place at the DoubleTree by Hilton Hotel Seattle Airport, April 27-29 in Seattle, Washington.
This affordable, premier professional development experience will feature a variety of sessions that will provide paraeducators with the opportunity to enhance their professional practice, foster effective teacher-paraeducator teams, and network with other paraeducators from all over the country. A pre-conference leadership networking session will take place Thursday, April 26, from 4:30-7:30 p.m.
Who will attend?
Paraeducators, teachers, administrators and others from across the United States attend. The conference is open to the public and is designed for paraeducators of all types, years of experience, geographic regions, etc.
What types of sessions will be offered?
The conference is a combination of breakout sessions and general sessions. Breakout session topics may include literacy and math instruction, small group instruction, autism, strategies for students with significant cognitive disabilities, proactive behavior management, early childhood education, English language learners, teacher-paraeducator teambuilding, and more. A draft general conference schedule can be found at: www.nrcpara.org/conference/schedule.
Submitting a Workshop Proposal
Are you interested in presenting a workshop at the conference? To submit a workshop proposal, visit: www.nrcpara.org/conference/call-for-papers. The deadline to submit a proposal is December 15. Note: NRCP does not cover travel expenses or registration fees for presenters.
Registration Rates (Early bird rates are good until February 1)
Paraeducator rates: $100 (Early Bird) or $125 (starting February 1).
Additional rates for partial attendance (attending only Saturday and Sunday or only one day) and teacher-paraeducator teams are also available.
Registration rates typically include some meals (e.g., breakfast on Friday, Saturday and Sunday was included in registration fees for the 2016 conference).
To register or learn about partial or team registration rates, visit
http://www.nrcpara.org/conference/registration
Pre-Conference Leadership Networking Session
The eighth annual National Paraeducator Leadership Networking Session will be held Thursday, April 26, from 4:30-7:30 p.m. This session is open to state and national paraeducator leaders and advocates who are engaged in activities that promote paraeducator leadership at the state and/or national levels. It provides an opportunity to share and discuss state and national level accomplishments and network with other paraeducator leaders and advocates before the kick-off of the conference. All interested parties may attend. There is no registration fee associated with this event.
If you are interested in joining the National Paraeducator Leadership Group or attending the pre-conference session, please register www.nrcpara.org/conference/leadership. If you have questions, please e-mail Marilyn Likins at marilyn@nrcpara.org.
Hotel Information
The conference will take place in the DoubleTree by Hilton Hotel Seattle Airport which is located less than one mile from the Seattle-Tacoma International Airport.
Room Rate: $106 Single (one king bed) or Double Occupancy (two queen beds)(plus tax)
Additional information will be available soon at
http://www.nrcpara.org/conference/hotel-travel.
Conference Sponsorship & Exhibiting
Sponsorship: www.nrcpara.org/conference/sponsor/become-a-sponsor
Exhibiting: www.nrcpara.org/conference/exhibitors.
Questions: Contact Jennie Young at 410-370-5279 jyoung@nea.org.