By Julie Rine, Minerva Local Education Association
W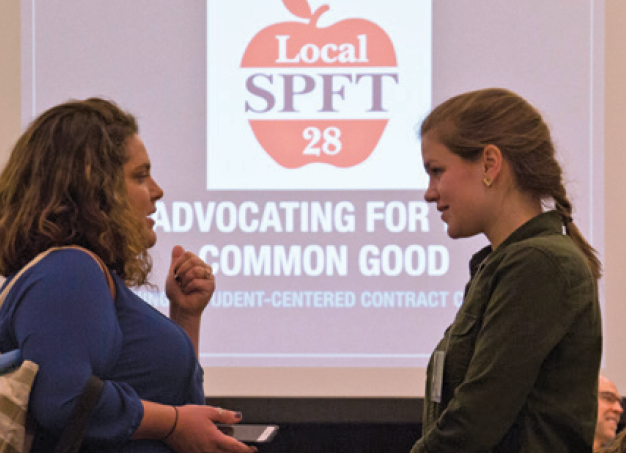 hen I started teaching 20 years ago, some colleagues taught me some very important tricks of the trade: how to get on the janitor's good side, how to sweet talk the secretary into making last minute copies for me, how to drink cheap beer (on a young teacher's salary, that might have been the most important lesson!).
And then one of those friends invited me (dragged me) to a negotiations committee meeting. I was a member of the association, but really had no interest in getting involved, primarily because I had absolutely no idea what the union did or how it did it.
I remember he said being on the negotiations committee was a good place to start, because one of the most important jobs of the union was to represent the teachers at the table, to work with the administration of the district to make gains that would better serve the students and teachers of the district.
Looking back, I know that he was trying to get younger teachers involved in the work of the local association, as I do now. It's important that the ideals and goals of the union pass down from one generation to the next and that we keep getting stronger each time the leadership changes. That colleague is retired now, but I think he would be proud of my involvement with the union that all began with one meeting where we brainstormed the needs we wanted to present to the administration at our contract negotiations that year.
Since then, I have served as Vice President and an at-large representative for our local association (we really need a more flattering title for that position!) and I have represented our association on various committees. I have helped screen local political candidates, attended regional events such as the legal update dinner and the annual meeting with state legislators, and last year I participated in the Representative Assembly in Columbus.
"We might be individuals with different beliefs, experiences, and priorities, but together we form a unit to be reckoned with, one that proudly uses its power and strength to advocate for Ohio's kids." — Julie Rine
I'll admit that the first time I went to the ECOEA Legal Update dinner, it was because it is held at a local restaurant known for good Amish cooking and fantastic pies. I still go back every year, but not just because of the pie; it is truly interesting to hear what court cases and legal issues are affecting teachers in Ohio (and frankly, sometimes quite horrifying!).
This was the first year that I attended the dinner with legislators, but it will not be the last.
To actually have conversations with the men and women who have the power to make decisions that affect education in Ohio is an opportunity that cannot be taken for granted. The State School Board members who joined us that night seemed just as frustrated as we are at the recent actions of several members of the Board.
The legislators answered our questions as best as they could, and it was evident that many of them truly have a heart for education and a desire to stop the madness that public education in Ohio has had to endure under Kasich's leadership.
Not every question we submitted was presented to the panel that night due to time constraints, but every single submitted question was sent to the panel members afterward. Those men and women now know exactly what issues evoke our anger and our passion, and they will be able to better represent us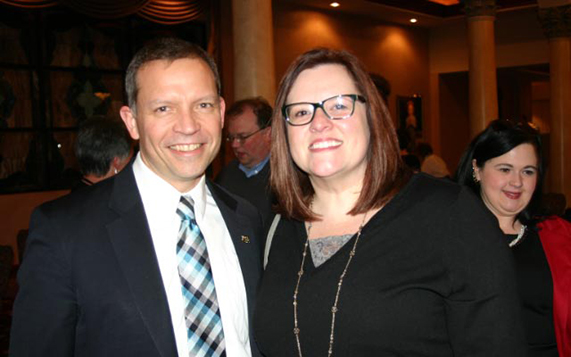 because of that three-hour event.
It was by default that I became our local association's delegate to the Representative Assembly last year. Each spring, my local asks for people to indicate interest in serving on various committees or being our delegate to the RA. No one wanted to be the delegate. We have a very small budget for the delegates, and it's actually possible to lose money by going to both fall and spring assemblies. I had no idea what to expect, but I and one other colleague agreed to go.
We held the election in the fall to make it official, but we were the only options. Because I was unable to attend the ECOEA RA prior to the one in Columbus, I did not get the delegate handbook until I arrived, but if I were to do this again, I would definitely get the handbook earlier; it explains what will be voted on, and gives many other details that would have kept me from going in blind.
At the assembly, I saw our union in action. There were the usual organizational tasks, budget reports, etc. (and I'll confess this English teacher might have zoned out on the numbers, but I'm sure the math teacher delegates were paying attention!). What fascinated me most was the presenting of new business, new concerns and suggestions of issues on which the OEA should take an official position.
One of the issues that came up that year was whether or not there should only be one assembly per year, partly because of the financial strain two meetings can put on small districts like mine. On this issue and others, delegates from all over the state and from every local association could and did approach the microphones to make their opinions known, to make suggestions for language changes, and to offer compromises when the supporters of two opposing viewpoints seemed to be at complete odds with each other. The debates were respectful and orderly; a vote was held and the voices of our members were heard.
One way of getting involved in the union that I have not yet experienced is an annual OEA Lobby Day, and I look forward to participating in that at some point. First, though, I better practice a lot more yoga and deep breathing, because I have a feeling it would be a challenge to keep my temper in check if I ever met some of our current legislators.
If you are not involved in your local or district association, I urge you to consider being more active next year. Join a committee, or attend a yearly regional meeting of some sort (if you're lucky, one with good pie!).
It might seem like just another meeting after school or just another annual event, but every time an association member is active in any way, our power grows. We might be individuals with different beliefs, experiences, and priorities, but together we form a unit to be reckoned with, one that proudly uses its power and strength to advocate for Ohio's kids.