By Julie Holderbaum, Minerva EA/OEA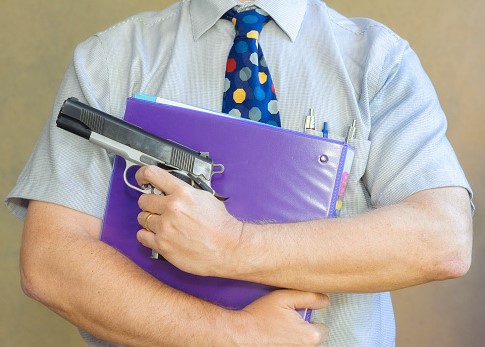 Another school shooting? 19 students killed? And two teachers?
He bought the AR-15s legally, just days after his 18th birthday? And bought another weapon just a few days after buying the first, with a high-magazine clip? Doesn't anyone besides me see that there should be a red flag in some system somewhere that signals local police to check this person out?
Would it have made a difference in this case? Maybe not…but we will never know, will we?
Is this for real? Is a local group really raffling off an assault rifle as a fundraiser for a youth program? Are they really asking kids to sell tickets for an assault weapon when kids were just slaughtered with the same type of gun, to the point of needing a DNA sample to be identified? I'm not sure if there is ever a right time for that sort of fundraiser, but less than a month after Uvalde?
And now the legislature passed what? A bill to LOWER the number of required training hours to 24 for teachers to carry a weapon in school? Didn't my daughter need 50 hours of behind-the-wheel training just to get a driver's license? Why would a teacher, who is not in the field of law enforcement, need so few hours of training to carry a gun in a school?
How would that even work? Would it be a hand gun? Locked and loaded in a drawer somewhere? Is a handgun going to be any deterrent to a person carrying an assault rifle? Would I have time to get to it if I needed it? And how would I know I needed it? A loud noise in the hall? Would I get my gun and peek my head out to see if action is needed? Would eight other teacher heads be peeking out in my hallway, guns drawn?
If nothing was wrong and we grabbed our weapons in error, would the students in our classes be traumatized by seeing their teachers with loaded guns?
Or has this lockdown-drill-school-shooting cycle become so normalized to them that they wouldn't even be phased at seeing the same people who teach them their ABCs or pre-calc wielding a dangerous weapon? And if so, what does that mean for the future of our country?
And what if the threat wasn't in the hallway, but in my classroom? One of my students? Even if I could get to my gun, would I have the ability to shoot one of MY kids? Knowing he suffers from depression and can't use our school resource mental health counselor because of insurance issues? Knowing his past experience with abuse? Knowing that he has not felt seen or heard or loved at home in years?
Could I shoot that kid?
And if I did use my gun, even if I saved lives, could I live with myself? What would the repercussions of pulling that trigger have for my own mental health? Would I ever be able to look at my students the same way again? Would they ever be able to see me in the same way again?
What if I hesitated? What if more were hurt because I struggled to pull the trigger? How could I ever teach again? How could anyone trust me again? How many lawsuits would I face because I didn't act fast enough?
If trained law enforcement officers hesitated to enter Robb Elementary School in Uvalde, what makes anyone think teachers would be comfortable entering a spray of gunfire and endangering themselves? Especially with only 24 hours of training?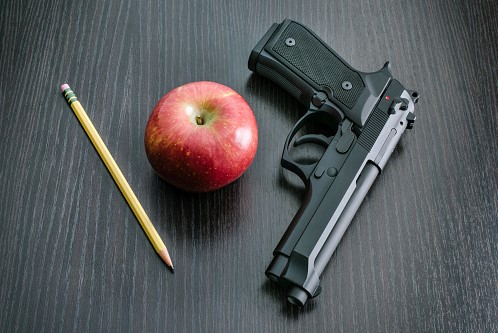 On the other hand, how many lawsuits would there be if I leapt into action, misread a situation, and shot an innocent person?
If we were required to actually carry our guns with us at all times, could I ever concentrate enough to teach effectively? How can I teach my students that words can change the world, that literature can move souls, that the power of a well-turned phrase can penetrate the hardest of hearts… while carrying a gun?
How's that for a mixed message? Words have power, but guns are faster? Is that what we want to teach?
Beyond sending mixed messages, could I ever teach without constantly worrying about my weapon? About who is looking at it oddly today, about turning my back on anyone, about helping one student at her desk while my gun is about 2 feet away from the hands of the student in the desk next to hers? Would I have to keep one hand on my weapon at all times? As a TEACHER?
Surely I wouldn't be required to carry a gun, though, right? I already check my classroom door multiple times a day to be sure it's still locked; I already weigh the options of teaching with my door shut and locked for safety from shooters to teaching with it open to allow for more airflow and safety from COVID; I already jump at every odd sound or unannounced lockdown; how much worse would it be if I knew multiple people in our building were carrying guns?
This legislation won't just affect the mental health of our students, will it?
I'm so tired of hearing that "the only thing that stops a bad guy with a gun is a good guy with a gun"; if that's true, why were weapons not allowed at the recent NRA convention in Texas? How could a room full of good guys with guns be a threat? Shouldn't that be the safest place in the world? Why aren't more responsible gun owners fighting for universal background checks, for a raise to the age limit to buy certain guns, for red flag laws, for a required waiting period before possessing a gun after purchase?
With so many Americans in favor of at least some reform to gun laws, are legislators who refuse to advocate for safer gun laws just afraid of losing their jobs? Afraid that without the money of the NRA and other pro-gun lobbyists they won't be able to fund a successful campaign? That they would lose their power, their position, their ability to provide for their families? But don't those same legislators force educators to live with those fears every day, knowing that if we teach about racism or other sensitive topics in the wrong way, we could lose our jobs thanks to their laws?
If they think we can't be trusted to discuss elements of America's troubled past or the current events of the day in a responsible manner, why would they deem us responsible enough to carry a gun in school?
When will our politicians put people over power? When will they set aside pride to work with the other side? When will the safety of our communities take precedence over an election?
If the politicians currently in office aren't willing to make changes, is the blood of the victims of the next shooting on their hands….or on ours?
If this isn't the time to persist in our efforts to persuade responsible gun owners to join the cause, when is?
If this isn't the time to promise our children that we will do more than pause to remember the victims and pray that this never happens again, when is?
If this isn't the time to preserve the sanctity of our classrooms as places of learning, belonging, and growing, when is?
If this isn't the time to pursue real action by promoting politicians who run on a platform of actual changes to the law, when is?
If this isn't the time to protest, when is? Aren't the protest signs true? "The power of the people is greater than the people in power?"
Isn't the truest form of political protest voting out those who have made empty promises but not practical efforts at positive change?
How many days until November?