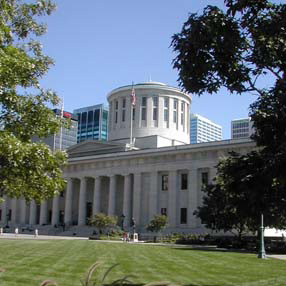 June 29, 2018
General Assembly Approves HB 21 – Protects School Districts with Stronger Residency Verification for Charter Students
The Ohio Senate last month passed HB 21, sponsored by Rep. Steve Hambley (R-Brunswick), by a vote of 32-0. The measure, which is strongly supported by OEA, was approved last December by the Ohio House, 94-0. The governor is expected to sign the bill.
It helps protect school districts from erroneous charter school deductions. Charter schools and the Ohio Department of Education (ODE) will take more responsibility for verifying the school district in which a charter student lives. School districts would continue to have the ability to review and challenge charter school student residency claims.
It seeks to solve problems with the Education Management Information System (EMIS) by requiring ODE to establish an EMIS advisory council. The council shall make recommendations to the superintendent of public instruction to improve the operation of EMIS and shall provide a forum for communication and collaboration between ODE and parties affected by the collection, reporting, and use of the system's data. Members of the council shall include department staff and representatives of school districts and other entities that regularly interact with EMIS.
Download this issue of OEA Legislative Watch

Save
Save
Save
Save
Save
Save
Save
Save
Save
Save
OEA Legislative Watch (Archives)
OEA Legislative Watch is the association's newsletter covering the legislation and policies that affect public education employees.
2018
June 29, 2018
• General Assembly Approves HB 21 – Protects School Districts with Stronger Residency Verification for Charter Students
May 21, 2018
•  Ohio SB 246 — Changes to Out-of-School Suspensions and Expulsions for Ohio's Youngest Learners — Passes
•  HB 200 — Vouchers —  Scheduled for a Possible Committee Vote
•  HB 54 — OEA Supported OTES Reform — Scheduled for a Possible Committee Vote
•  HB 87 – Local School Districts Stand to Recover Funds Lost to Troubled Charter Schools
•  HB 21 – Stronger Residency Verification for Charter Students will Protect Districts from Erroneous Per-Pupil Deductions
•  HB 591 – OEA Supports School Report Card Reforms
April 23, 2018
OEA Supports Bill to Fix OPERS Service Credit for County Board Employees; HB 540: OEA Members Testify in Support of OTES Reform Legislation; HB 591: OEA Supports School Report Card Reforms
March 26, 2018
House Bill 540 – OTES Reform Bill Receives Sponsor Testimony from Rep. Gavarone (R-Bowling Green) and Rep. Manning (R-North Ridgeville); Senate Bill 216 Passed by Ohio Senate; Heads to Houses for Further Consideration
March 12, 2018
Senate Bill 246 Seeks Changes to Out-of-School Suspensions and Expulsions for Ohio's Youngest Learners; OEA Testifies in Opposition to Education Consolidation Bill; SB 216 – OTES Reform Long-Sought by OEA Passes Senate Education Committee; HB 98 – Senate Education Committee Passes Bill to Provide Students More Information About Careers in the Skilled Trades; Other Education Amendments Included; Local School Districts Stand to Recover Money Lost to Troubled Charter Schools with the House Passage of HB 87
March 2, 2018
Kasich Administration Voices Support for Education Consolidation; Senate Bill 216 – Public School "Deregulation Act" Continues to Receive Hearings; School District Report Card Reform Discussions Unfold
February 16, 2018
Legislation Introduced to Consolidate Education Departments
February 9, 2018
OEA Supports Teacher Evaluation Reforms in Senate Bill 240; OEA Opposes Senate Bill 216 – Public School "Deregulation", Ohio General Assembly Passes Bi-Partisan Congressional Redistricting Plan
2017
2016
2015
2014