Enter OEA's contest to redraw Ohio's district maps
This year, Ohio will redraw its district lines using new, fairer laws you voted for.
That means in 2022, Ohio voters could start choosing their politicians rather than politicians choosing their voters. But first, we need to make sure no one tries to cheat the system and gerrymander the new map so politicians don't have to listen to the people, which benefits political parties, but not the voters.
Our current system is broken. No one can agree on anything, and because of this gerrymandering, these politicians can't lose. They've stopped listening to who they represent or even each other because all that matters are the special interests who fund their re-election.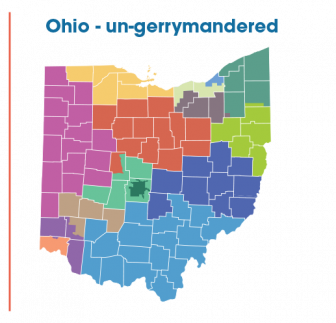 If we're going to fix this mess, we need non-partisan, independent redistricting that ends map manipulation. Here's how you can help:
All students enrolled in Ohio public middle schools and high schools and all OEA members are eligible to enter OEA's contest to Design Ohio's Future.
To create your map, use Districtr (https://districtr.org/ohio), a free community webtool for mapping. All map entries must follow the redistricting guidelines approved by Ohio voters, which include:*
Keeping districts contiguous and compact, with roughly the same number of people. Each state legislative district must be within ±5 percent of the average population size, provided by Districtr
Strictly limiting splits in county, municipal and township boundaries wherever possible
For Congressional redistricting: Of the eighty-eight counties in this state, sixty-five counties shall be contained entirely within a district, eighteen counties may be split not more than once, and five counties may be split not more than twice
*Entries in the "Most Creative" categories have different requirements
More information about Ohio's full redistricting requirements can be found here, here, and here. You can watch a tutorial about redistricting and how to use the Districtr platform here:

All entries are due no later than June 1, 2021. Use the form below, or send the URL for your map including name and address to contest@ohea.org.
Winners will be chosen in each of the following categories for the maps of Ohio House, Ohio Senate, and Congressional districts:
Most Politically Competitive

Districts shouldn't be drawn to favor or disfavor a political party. Use the Partisan Balance evaluation tool in Districtr to try to create the most politically balanced districts.

Fewest Community Splits

Gerrymandered districts split up communities and deprive residents of their voice in the legislature. Make maps that keep most communities whole along county, township, city, and school district lines. Can you do better than even what the law requires?

Most Creative*

Ohio's districts should be compact with "reasonable" shapes, but we've seen maps over the years that have thrown that rule away. Keeping population sizes the same across districts but disregarding the rest of the requirements, show us some of the ridiculous and silly shapes you can make.
---
Prizes will be awarded to the best map in each of the three categories above with separate divisions for Ohio House, Ohio Senate, and Congressional district maps.
Each category will have both a middle school student, high school student, and OEA member winner.
The best designs in each category will be featured in Ohio Schools magazine, on the OEA website, and social media, and on the All in for Equal Districts website.
All entrants will receive a Design Ohio's Future certificate of participation. Winners will receive a special commemorative plaque and winning entries will be shared with state officials charged with re-drawing the maps. Yours may be the map that saves Ohio's system! Go save it!
Questions? Email contest@ohea.org

Entries have been closed, thanks to our members and kids for sending in submissions! Watch OEA's website and social media for an announcement on the categories winners.