Lobby Day – June 2, 2022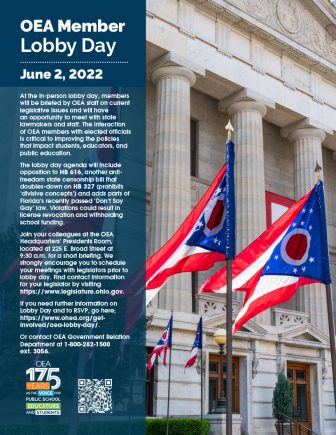 OEA Member Lobby Days provide an opportunity for OEA members to meet with state legislators to discuss key educational issues. In an effort to broaden support for public education issues and build partnerships with other public education stakeholders, we encourage you to invite parents, administrators, school board members, and students to join our lobby day efforts.
At the in-person lobby day, members will be briefed by OEA staff on current legislative issues and will have an opportunity to meet with state lawmakers and staff. The interaction of OEA members with elected officials is critical to improving the policies that impact students, educators, and public education.
The lobby day agenda will include opposition to HB 616, another anti-freedom state censorship bill that doubles down on HB 327 (prohibits 'divisive concepts') and adds parts of Florida's recently passed 'Don't Say Gay' law. Violations could result in license revocation and withholding school funding.
What you should do in preparation for Lobby Day:
Step 1.  RSVP to OEA
You can RSVP the following ways:
RSVP using the form below
Call 1-800-282-1500 and ask for Government Relations
Thank you to our members who attended Lobby Day on June 2, 2022
Step 2.  Make your Appointments with Legislators in advance.
Call your legislators well in advance of the OEA lobby day to schedule appointments. If the legislator is not available to meet with you, make an appointment with their Legislative Aide. We encourage you to schedule your meetings to begin after 10:00 a.m. so you can participate in the morning briefing at OEA. If that is not possible, you are encouraged to make the appointment for the time the legislator or aide is available.
To access contact information for your legislator, go to the following web address:
http://www.legislature.ohio.gov. You will be taken to a page that will allow you to locate your legislator's contact information by typing in your zip code.
When you contacting your legislator, tell them you want to speak with them as part of OEA Member Lobby Day and would like to set an appointment regarding education-related issues.
Step 3. Attend the Lobby Day Briefing
The June 2nd lobby day briefings will occur at 9:30 a.m. in the President's Room; the briefing usually lasts 45 minutes. Please use the RSVP form above.
The lobby day briefing will be conducted by OEA officers and OEA GR staff. The briefing is designed to provide participants with information that will be useful to subsequent discussions with legislators. A Q&A session will follow the presentation.
Step 4. Go Out and Lobby!
Once the briefing is concluded you will be ready to go to the statehouse and lobby. Feel free also to attend any of the legislative committee hearings scheduled for that day in the statehouse. The legislative schedule will be included in your packet. The statehouse is within walking distance of the OEA building, but comfortable shoes are recommended.
Step 5. Feedback and Follow Up
It is very useful for our ongoing lobbying to have your feedback about your lobby day experience. We ask that you provide that information to GR. This information will aid the OEA lobbyists in their efforts by knowing what was discussed in your meetings and what you were told by legislators or staff. Your feedback is also invaluable in helping to improve the lobby day experience for OEA members.
We ask that you:
Join us at the next lobby day.
Invite a friend of public education to attend the next lobby day, be they a colleague, administrator, community member, or friend. Our collective effort makes a difference.
Sign up to receive information and opportunities for ongoing lobby activities with OEA Action Alerts. Sign up here.
Logistics and other information:
Parking: Public parking is available in the following locations: the parking garage behind the OEA building; the parking garage under the Statehouse on the northwest corner of E. State St. and S. Third St.; a parking lot on the northeast corner of E. State St. and S. Third St.; or the underground parking garage located on S. Third St. and E. Town St. across from the Greyhound Bus Station. There is a fee for all downtown parking and can range from $6.00 – $10.00, depending upon the lot.
Please do not park in the following locations: the parking lot directly behind the OEA building or the OEA parking lot as they are designated staff parking lots. Please do not park in any private lots as you may be towed and/or ticketed.
Handicapped Accessibility: The OEA building and the Ohio Statehouse are handicapped accessible.
The Statehouse is two blocks west of the OEA building.  You can schedule tours of the Ohio Statehouse by calling 614/728-3726. There are also walk-up tours at designated hours.
There is a Statehouse Gift Shop on the ground floor of the statehouse where you can purchase Ohio memorabilia and other items.
Restaurants: There are numerous restaurants in the immediate vicinity of the Statehouse.  Meals are reasonably priced beginning at approximately $8.00. Please check online to determine if a restaurant will be open.
Reimbursement Policy: The OEA does not reimburse any expenses related to lobby day, such as mileage, meals, or parking. Contact your Local or District Association to inquire about their lobby day reimbursement policy.