2017 School Breakfast Champion Award Winners
The Ohio School Breakfast Challenge (OSBC) is pleased to announce the 2017 School Breakfast Champion Award winners.  Schools were recognized for their innovative and collaborative school breakfast practices and tradition excellence in providing school breakfast to all students as they start their day ready to learn.
---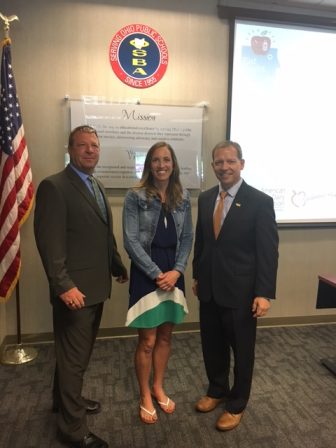 Congratulations to the Inaugural Eight 2017 School Breakfast Champions
*Steve Semanick, Teacher @ Chillicothe High School
Lois Wion, AA & Food Service Director @ Piqua Central Intermediate School
Joseph Brown, Child Nutrition @ Columbus City Schools
Sue Hughes, Child Nutrition @ BL Miller Elementary School
Clark-Shawnee Elementary & Middle Schools
Matt Morrison, Principal, Edison Local Elementary & High Schools
*Dana Schultz, Media Specialist @ Hilliard-Tharp 6th Grade School
Sandi Smith, Child Nutrition @ Mayfield High School
* OEA members
---
School Name/District: Chillicothe High School, Chillicothe city Schools, Urban
Champion Award Nominee: Steve Semancik, Business Education Teacher
Breakfast Champion Success: Innovative School Breakfast Model, Tradition of Excellence
Chillicothe High School started the Cavalier Café in January 2016. The student run café operates as a business class through Pickaway Ross vocational School called "Marketing Capstone" in coordination with food service and the guidance counselor. The goal was to increase student access to breakfast, assist students in learning to run a small business, increase course offerings, reward students for their positive behavior, and continue to promote the use of technology to operate the business. Students can purchase coffee and other items at the café and pick up a free grab n go breakfast outside of the café. By placing the café in an assessable area of the school and offering more selections, breakfast participation has increase by the hundreds. The café purchases coffee from FiveLoaves, an organization that provides food and clothing to the local community. This partnership has led to the creation of the "Cavalier Closet", that serves Cavalier families and students with food, clothing, a personal item pantry and supports students that are involved in the vocational student youth organizations.
School Name/District: Hilliard-Tharp 6th Grade School, Hilliard City Schools, Suburban
Champion Award Nominee: Dana Schultz, Innovative Media Specialist
Breakfast Champion Success: Meal Quality, Tradition of Excellence
The media specialist worked with community organizations and the food service staff to coordinate efforts in educating students on the benefits of breakfast and providing incentives for students to participate in breakfast. Through grant monies, the school created a smoothie recipe competition. Students submitted recipes, taste tested them and selected a winning recipe. The breakfast program now offers a smoothie at breakfast. The media center continues to promote breakfast through bulletin board materials, signage, and bookmarks that promote the importance of starting the day with a health breakfast.
---
A nutritious morning meal not only sets a child up for success, it also provides structure for their day and helps contribute to the needs of the whole child. When a student comes to class hungry, they do not have the fuel to learn which has a negative impact both on their academics and behavior. The lack of energy and focus leads to behavioral and attention problems that affect the student and the class as a whole.
The federal School Breakfast Program makes it possible for millions of children from low-income families to start their day with a nutritious breakfast, yet according to the latest Food Research & Action Center's (FRAC) School Breakfast Scorecard, nearly half of low-income children who are eligible for a free or reduced-price breakfast through the program don't eat it.
Lack of awareness about the School Breakfast Program, lack of time to eat breakfast, late bus schedules, and stigma associated with the program are some of the reasons students don't eat school breakfast when it is served in the cafeteria.
In Ohio, participation in school breakfast increased from 418,371 students in fiscal year 2012 to 442,078 in fiscal year 2016. In 2015-16, 71,286,234 meals were served, an increase of 4.5% over the previous year. Recognizing the need to address childhood hunger while boosting participation in the School Breakfast Program, schools and organizations are working to improve it. Throughout Ohio, school districts can apply for a grant from Partners for Breakfast in the Classroom — a  consortium of national education and nutrition organizations including the NEA Foundation — to offer school breakfast to students at no charge and move the meal from the  cafeteria to the classroom.
"Partners for Breakfast in the Classroom are providing a grant to school districts that have high levels of eligible students but perhaps not as many students participating in school breakfast as we'd like to see," said OEA Vice President Scott DiMauro, who also serves as the national spokesperson for Partners for Breakfast in the Classroom.
DiMauro explained that through a generous contribution from national funders there is $7.5 million dollars available to help schools and districts with startup costs like equipment and supplies, whether that might be  a cart, insulated bags for distributing breakfast, staff training or promotional materials. The district uses the grant to start its program. Once the program is in place, government reimbursement for federal lunch and breakfast programs helps pay for the ongoing cost of the program.
Serving breakfast at school after the opening bell, the program provides all students with the morning nutrition they need to start their day ready to thrive regardless if they qualify for free and reduced lunch. Breakfast in the classroom lightens hectic morning routines  and brings a sense of community to the students when they eat together. Having a nutritious start to the day not only improves their concentration, alertness, comprehension, and learning, but it also reduces disciplinary problems, tardiness, and visits to the nurse.
Save
Save