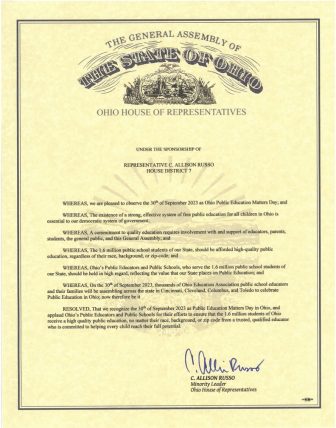 [October 2, 2023] Thousands of public school teachers, education support professionals, higher ed faculty members, and retired educators came together across Ohio Saturday to demonstrate the strength of their solidarity and support for Ohio's public schools. The Ohio Education Association (OEA) hosted these gatherings, as part of the inaugural Public Education Matters Day celebrations, at the Columbus Zoo, Cleveland Metroparks Zoo, Toledo Zoo, and the Newport Aquarium in the Cincinnati area.
"Ohio's public school educators have dedicated their lives and their careers to delivering the excellent public education that every child deserves – no exceptions. The Ohio Education Association was thrilled to be able to celebrate the passion and professionalism of our members at these regional rallies while strengthening our collective resolve to tackle the real issues facing our schools," Ohio Education Association President Scott DiMauro said. "We must continue to use our united voice to demand the supports and resources our students, educators, and public school communities need to thrive, and we must ensure our educators are treated with the respect and dignity they've earned so education can be a sustainable profession that continues to attract high-quality professionals to serve our students."
OEA launched the Public Education Matters initiative in spring 2023 as a galvanizing internal and public-facing campaign in its ongoing advocacy work to continuously improve Ohio's public schools. "Together as one, Ohio's educators, parents, and community leaders can achieve our vision for the excellent public schools Ohio's students deserve," DiMauro said. "Our strength is in our unity, and we will continue to speak in one strong, united voice because in Ohio, public education matters."
In honor of the importance of public education in Ohio, the Ohio House issued a special commendation to OEA in recognition of its unfaltering commitment to continuously improving public education in our state. Additionally, the Ohio House Democratic Caucus approved a resolution recognizing September 30, 2023, as Public Education Matters Day in Ohio.
Images of OEA's Public Education Matters Day rallies and member celebration events at the Columbus Zoo, Cleveland Zoo, Toledo Zoo, and Newport Aquarium are available on the Ohio Education Association Facebook page. A video with more information about the aims of the Public Education Matters initiative is available here.