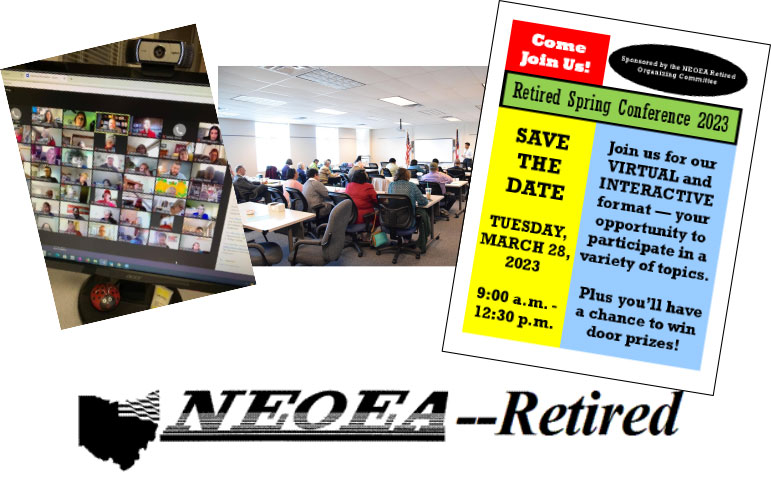 Save the Date – March 28, 2023
Sign up for OEA-R Spring Conference information on our Contact Us page. Download Flyer

Visit our Facebook page and our Webpage.
The NEOEA-Retired Organizing Committee promotes the welfare of retired members of the North Eastern Ohio Education Association (NEOEA) by identifying particular concerns of retired members as topics for training workshops and social opportunities, by serving as a link between northeastern Ohio retired members and those in other districts, and by fostering communication within OEA-Retired.
Our goal is to provide you a resource to locate people and resources to assist you and keep you informed. Please consider volunteering to serve on one of our Sub-Committees. NEOEA-OEA-Retired members may use the Contact Us page to update their contact information. We need your input to better assist you. Submit your comments, questions, or contact updates on our Contact Us page.
Active Members
Pre-Retired Membership in OEA-R and NEA-R locks in today's rate and ensures a smooth transition for all your Association Benefits.
Members of OEA-R and NEA-R save well over the $450 Life Membership fee ($350 ESP) when they take advantage of discounts on home insurance, car insurance, or appliance and car discounts through the Association.
Members who retire from an NEOEA local are automatically members of NEOEA-R and eligible to attend events and enjoy NEOEA Discounts.
Take advantage of the Payment Plan for up to 17 payments.
Payment Plan form – 2020-2021_OEA-PreRetired_eDues-v7
See OEA-R Benefits and NEA-R Benefits on the OEA-R website.
NEOEA-R Organizing Committee:
Nancy Wonson, Lakewood TA-R; Chairperson
Dennis Lewis, Parma EA-R; Vice Chair
Sherri Koncilja, Painesville City TA-R; Secretary
Gary Hollow, Bristol-R; Past Chair
Donna Smoot-Walters, Barberton EA-R; NEOEA Liaison & OEA-R NEOEA Representative
Beverly Woolridge, Akron ACP-R; OEA-R At-Large Representative
Marsh Buckley, Mentor TA-R; OEA-R Legislative Committee Representative
Tom Moscovic, Willoughby-Eastlake TA-R; OEA-R OEA Political Action Fund Representative
Hank Haynes, ACCESS-R; web/newsletter editor
Debbie Bernauer, Brecksville-Broadview EA-R
Rhonda Braylock, East Cleveland EA-R
Beryl Burkle, Bedford EA-R
Barbara Catalano, Mayfield EA-R
Dave Ciborek, Twinsburg EA-R
Nanci DiBianca, Cuyahoga Hts. TA-R
Carol Dolgosh, Lakewood TA-R
Martha Dunford, Perry EA-R
Sue Fatica, Painesville City TA-R
Marti Franks, Twinsburg EA-R
Patricia Frost-Brooks, East Cleveland EA-R
Peg Ham, Lorain EA-R
Martha Harper, Ashtabula ACSE-R
Norman Hillstrom, Mentor TA-R
Joyce Hives, East Cleveland EA-R
Mary Keefe, Maple Hts. TA-R
Teri Mackey, Wadsworth EA-R
Adele Matias, Mayfield EA-R
Steven Mitchell, East Cleveland EA-R
Pat Wagar, Mayfield EA-R
Jené Wilson, ACCESS-R