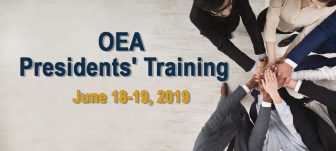 All elected presidents of OEA locals, including those elected for the 2019-2020 school year, are invited to participate in a special training program June 18-19 at the Columbus Renaissance Hotel, 50 N. 3rd Street, Columbus OH 43215.
This program, led by a diverse cadre of local presidents and OEA staff, will provide participants the opportunity to learn about the roles and responsibilities of a local president, the essential knowledge and skills needed to be successful, as well as connections with others serving in similar roles in Ohio locals of all types and sizes.
This training is planned around the NEA Leadership Competencies and is focused on knowledge and skills related to Governance & Leadership and Organizing. Participants will receive OEA's Local Presidents' Handbook to support them in their work to grow and strengthen their local unions.
This program will begin at the conclusion of the OEA Summer Academy with a reception and dinner at 5:00 p.m. on June 18 and conclude at 4:00 p.m. on June 19. OEA will cover the cost of a hotel room for participants traveling from outside of Columbus.
There is no registration fee; however, space is limited, and pre-registration (below) is required.