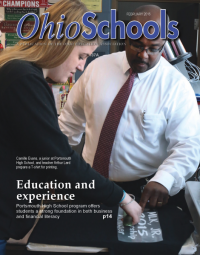 The OEA Board of Directors has endorsed Arthur Lard for election to the State Teachers Retirement System (STRS) Board representing active teachers.
Lard is a teacher in Portsmouth City Schools with 27 years of experience. He teaches Business Education, Financial Management and Accounting. Additionally, he has served as Treasurer of his local association for 19 years. This background will serve him well as our representative on the STRS Board.
For Ohio's teachers, the benefits provided by STRS are crucial to our economic security in retirement. It is important that we see to it that the members elected to the STRS Board are prepared, dedicated and will protect our interests.
Arthur Lard is dedicated to ensuring members have secure, reliable pensions and access to health care benefits in retirement.
At this time, it is not clear how many individuals may be seeking election to the STRS Board. The deadline to qualify for the ballot is in late February.
If there is a contested election, ballots will be mailed in early April to eligible voters at their home address. Votes can be cast by mail, phone or online. The deadline for voting is May 6, 2019.