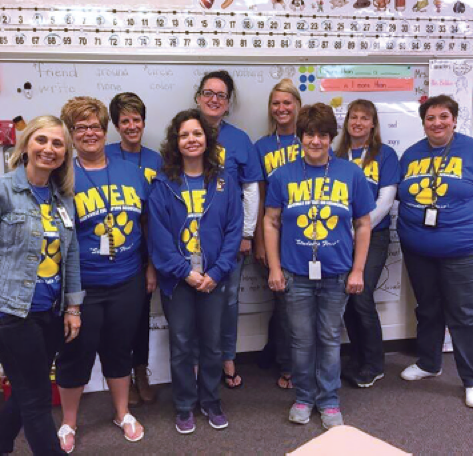 In 2014, midway through the freeze, the administration presented MEA with a "white knight" solution known as alternative compensation developed with the guidance of Battelle for Kids, a non-profit organization intent on tying teacher employment and pay for performance based upon student test scores.
Still reeling from stagnant wages and the defeat of SB5, members made the short-term decision to accept the alternative compensation proposal that came packaged with sweeteners and incentives, many of which were grant-based. Despite warnings from the local's OEA labor relations consultant that the inequities of the system would be revealed once grant money disappeared, and that a return to their salary schedule might be impossible, 95% of voting members accepted the new compensation plan and, ultimately, its failures.
This year the exit of prior school district management and hiring of a superintendent who was not a strong advocate of tying teacher pay or evaluations to student test results, encouraged a group of MEA members to pursue a return to a traditional pay scale—used by 97% of Ohio school districts.
According to MEA President Myra Warne this was no small challenge for a local with 140 members in rural southeastern Ohio. "Nobody could remember the last time more than 25 or 30 people had come to a meeting," Warne said. "And, as is often the case with small locals, previous negotiations had been informal and often occurred without the benefit of labor experts at the table."
As newly elected MEA president, Warne, an English teacher at Maysville High School, promised member involvement and transparency in the process, recognizing that neither would be possible unless teachers were willing to unite behind the goal of achieving an equitable contract that would serve the best interests of all members.
"Nearly a quarter of our members were doing better with merit pay than they would have with the traditional system," Warne said. "Some wouldn't receive a raise if MEA returned to the old salary schedule because they had passed the top rung, but the other 75 percent of members had seen their pay stagnate for years. We had to convince those who were benefiting from the new system to support our efforts with the understanding that when management pits us against one another, it's bad for the union as a whole."
The MEA Executive Committee recognized that achieving its goal would require a plan to foster member engagement, beginning with a negotiations committee. An all-call for negotiating committee members produced 10 volunteers from different work areas and buildings who agreed to meet weekly, beginning in January 2017.
At the initial meeting, the team developed a plan with each committee member assigned an article of the existing collective bargaining agreement for review and recommendations. With the help of the local's new LRC Jeremy Baiman, the group dissected the agreement, focusing on key areas. The team sought input from non-committee members in specific disciplines such as special education.
The group then took the unprecedented action of opening every article of the contract, something that had not been done in decades. They discovered a clause suggesting that the superintendent had the right to determine whether a teacher who had given birth was emotionally fit to return to work. In other areas, such as family medical leave, contract language was in violation of federal law.
Committee members were assigned review of specific articles. They also examined contracts from other locals and survey responses from MEA members, and made recommendations based on their research. After discussion, the group agreed on bargaining priorities.
Another critical step was analyzing the district's spending and financials. On behalf of the MEA, the OEA filed a Freedom of Information Act request for all district salaries and compensation that revealed wide disparities in pay.
Warne said the committee found one teacher who would need to work 21 years under the alternative compensation plan to reach a salary of $51,500—the amount earned by the district's executive secretaries. The member agreed to serve as a poster child for MEA's efforts.
"It wasn't enough to just say, 'This is good for young teachers,'" Warne said. "We made sure we had permission to use member names, both at the bargaining table and with other members, so that we would have concrete examples."
MEA's research also revealed that the district was
top-heavy in administrative salaries—employing 17 administrators at a cost of $1.5 million to taxpayers, compared to 12 administrators in a similar-sized neighboring district. The union's analysis of the district's financials showed that the year it implemented merit pay, Maysville saved $700,000 in staff payroll. While the district was pleading poverty, its books showed $1.3 million in revenue over expenses.
Warne said, "exposing and highlighting these financial disparities engaged members, but we needed a strategy to sustain engagement and support throughout the bargaining process to ensure our success."
Regular communication was key to providing the transparency promised to members early in the process. Committee members secured personal email address and cell phone numbers for each member and contacted teachers to collect accurate information regarding years of service and education levels.
Determining the cost for MEA's proposal was crucial to securing a deal and math teacher Amber Williams spent hours creating formulae and manipulating data with respect to various counter proposals on compensation.
Communications team members Toni Stoepfel and Samantha Mitts kept members informed in real time, sending emails and text messages updating teachers on the progress of negotiations, and encouraging them to show solidarity by wearing member shirts, participating in group walk-ins, and wearing daily assigned colors to demonstrate unity.
Committee members were motivated and encouraged when, on the first day of negotiations, teachers showed up at school in MEA shirts and posted group pictures
to Facebook.
"As negotiations continued, we received motivational texts and emails from appreciative members, demonstrating the real reward—the fact that we were working hard on behalf of all members," Warne said.
MEA kept members informed of the substance of negotiations and made sure they were involved in key decisions.
"After the first two days of bargaining, in which the district insisted on maintaining the merit pay system,
we told their negotiating team we needed member input before we could proceed," Warne said. "On May 9, we held a meeting attended by two-thirds of our members—absolutely unheard of in our district—and presented members with three choices: continue to fight for the traditional step system; acquiesce to the alternative compensation scheme, but try to get a better deal; or work with the administration to come up with a combination of the two."
Attendees voted soundly (91%) to continue MEA's fight to regain the traditional pay scale, and the committee secured petition signatures from 87% of all members, signaling that they would do whatever it took to achieve the desired result.
A turning point for MEA was the attendance of 90 members at a school board meeting—so many members that the school board hired a deputy sheriff to attend the proceedings.
Bargaining concluded June 2 with a return to the traditional pay scale—making MEA the first local in Ohio to win back its salary schedule after giving it up.
Additional contract gains included a grandfather clause, ensuring that members who had exceeded their step-based salary would not take a pay cut, financial penalties for the district for exceeding class size targets, and additional release days for our special education teachers. The lone concession was an agreement to add 15 minutes to the workday, bringing Maysville into alignment with other local districts.
The contract was ratified with a 91 percent yes vote.
Preparation, communication and unity were the keys to MEA's success.
"We began preparations early, sought member input and engagement in the process, created an expectation that our members would support these efforts, and refused to back down at the table," Warne said. "Countless hours of preparation and research resulted in a successful negotiation for our local.
"We were willing to do the hard work required to negotiate a meaningful contract that serves all our members. It is this unity that brought us success. Our challenge is to maintain that solidarity and continue to develop relationships among members going forward."