The November 2013 General Election has now come and gone. However, some amazing things occurred that I hope are the beginnings of a movement to defend public education and the middle class in Ohio through the electoral process.
On Tuesday, November 5 2013, as the polls closed and results began streaming in from local elections across the state, it became clear that 11 active, retired or OEA family members had won election to local offices. The 11 who won were elected to either a local school board, township or city council.  They now have the ability to make decisions and influence public policies in support of a stronger public education system and middle class families.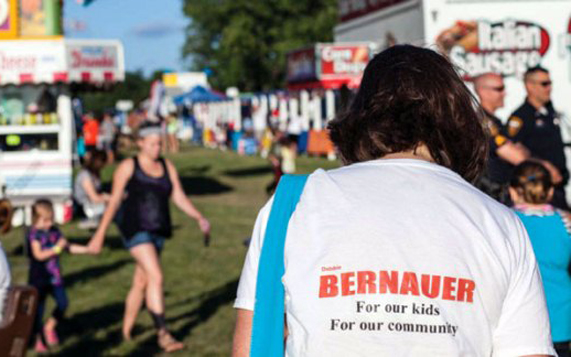 The stories of these 11 members showcase OEA members' commitment to ensuring that all students receive a quality public education wherever they live in Ohio. Stories like that of Debbie Bernauer who after a long career in service to her students as an elementary school teacher, who now will continue her "…commitment to doing everything possible to continue excellence in [the Brecksville-Broadview Heights] schools," as a member of her local school board, or Jason Phillips, a current educator and coach in the Licking Heights School District, who is now an elected member of the Gahanna-Jefferson School Board, and will begin his work to help Gahanna-Jefferson schools, students and community succeed in an ever modernizing education environment.  Or stories like that of Tina Davis, who won election to the Twinsburg School Board whose experience as an educator and school volunteer influenced her decision to run on a platform that put smaller class sizes or improving academic competitiveness at the heart of her campaign.
Their victories underscore the power that we have when we recruit, train and support OEA members and allies to run for elected offices for the betterment of public education and the middle class. Altogether there were 14 active, retired or OEA family members on the ballot. Many of them participated in OEA's Member Candidate Program or in a LEAD (Leadership, Education and Development) Ohio Training. LEAD Ohio was formed by OEA and a coalition of allied organizations, whose mission is to improve the social and economic well-being of Ohioans by recruiting and preparing elected leaders in every corner of the state, to champion progressive policies to improve the quality of life for all citizens. During the trainings, these individuals learned how to craft their campaign narrative and how to develop a comprehensive campaign plan.
While Tuesday's election of these educators and allies to local office underscore a great step forward to protecting public education and the middle class, our work is not finished. On next year's ballot Ohioans will not only elect the next Governor and other statewide office holders, but their representatives to the Ohio General Assembly and State Board of Education. It is imperative that educators continue to work to help electing allies to elected office so we can continue to protect Ohio's public education system and middle class.
To that end, if there are individuals like Debbie, Jason or Tina in your communities who are looking to step up to lead the fight to protect the middle class and public education in Ohio, please encourage them to participate in an upcoming LEAD Ohio Training:
CINCINNATI LEAD OHIO TRAINING
When:        Saturday, November 23, 2013
Where:       Teamsters Local 100/UFCW Local 75 Hall (2100 Oak Rd, Cincinnati, OH 45241
Time:          8:30 AM – 5:45 PM
What:         Wellstone Action Training
RSVP:          https://docs.google.com/forms/d/17dMdsJxO4YfuqMNJ3JiQU5Eh12yYpRSiIx54hVZYmpQ/edit
CLEVELAND LEAD OHIO TRAINING
When:        Saturday, December 7, 2013
Where:       TBD
Time:          8:30 AM – 5:45 PM
What:         Wellstone Action Training
RSVP:         Email ramosd@ohea.org
By Daniel A. Ramos, UniServ Political Advocacy Consultant, Ohio Education Association