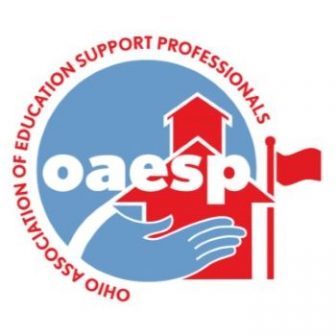 Each day Education Support Professionals (ESPs) keep schools running and students safe, healthy and ready to learn. ESPs serve in a wide range of professional, administrative, technical, and general staff working within the education sector, including aides, clerical services, custodial and maintenance services, transportation, food services, skilled trades, health and student services, and security services.
Interested in joining? Click here to download an application (Adobe pdf)
ONE — Ohio's New Educators | Resource Guide: New ESP

We're excited to share some upcoming professional development and networking opportunities for ESPs. Please join us and share these events with your members and colleagues!
ESP Learning Network Webinar: Achieve More Just and Equitable Salaries for ESP
Thursday, June 22, 2023, 7:00-8:00 p.m. ET
It's no secret that ESPs are underpaid, and the cost of living varies greatly throughout the United States. Join Samuel Walters, Science Paraeducator and living wage expert, as he explores concepts, tactics, and tools to advocate for better pay. REGISTER HERE.
We look forward to seeing you there!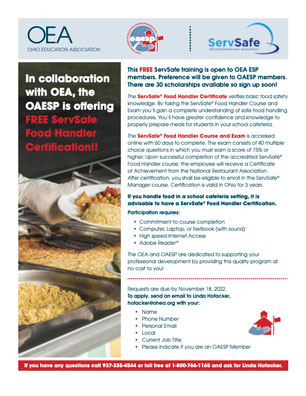 In collaboration with OEA, the OAESP is offering FREE ServSafe Food Handler Certification!! This FREE ServSafe training is open to OEA ESP members. Preference will be given to OAESP members. There are 30 scholarships available so sign up soon! The ServSafe Food Handler Certificate verifies basic food safety knowledge. By taking the ServSafe Food Handler Course and Exam you'll gain a complete understanding of safe food handling procedures. You'll have greater confidence and knowledge to properly prepare meals for students in your school cafeteria.
Request are due by November 12, 2022. To apply, send an email to Linda Hofacker, hofacker@ohea.org with your:
name
phone number
personal email
local
current job title
please indicate if you are an OAESP member

Oh Yes, We're Social — Join the Conversation!