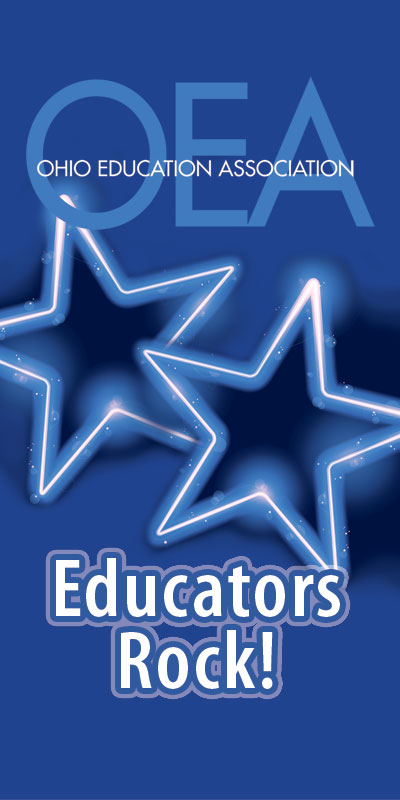 It's that time of year again. I'm not talking about the time where a local station plays only Christmas music or when the malls fill up with shoppers craving the best deal on the latest gadgets. I'm talking about the OEA Representative Assembly, or RA, the first weekend in December.
This is my 12th December RA. My perspective on the experience has changed a great deal since the first one I attended. I didn't know what to expect, over a decade ago, when I walked into the auditorium with several long-time leaders from my local. The names of OEA leaders were unfamiliar. I couldn't have picked out Gary Allen, our OEA President at the time, in a crowd. I couldn't comprehend the importance of the FCPE drive that ran throughout the assembly. I had a limited understanding of the procedures or the relevance of the discussions that ran into the late Saturday afternoon.
But I listened…
Over the years, I became more familiar with the people and procedures associated with the RA. I looked forward to hearing the words of our OEA President, who framed our education climate and discussed the challenges we faced. I better understood the STRS update and the remarks by our Executive Director.
In recent years, with the attacks on public education peppering us, the RA has taken on extra importance to me. It's the place where I've heard from elected officials, like Ted Strickland and Ed Fitzgerald, who are true friends of public education. It's the place where teacher leaders gathered, lamented and shared ideas to get through our struggles.
The most memorable RA I attended was December 2011, right after the resounding defeat of SB 5. There were many congratulatory words and hopeful, energy-filled speeches by our leaders. There were hugs from my new friends from all over the state who fought SB 5 in their communities. There was the 10-minute video montage, chronicling our battle over the previous year, which had me and several of my friends nearby in tears. It was at that RA that I truly felt like I was a part of OEA, and I found a connection beyond my local, to the state organization.
This year, there is no SB 5. There is no campaign for OEA office. I don't expect to see NEA President Dennis Van Roekel on the stage. Even so, this RA, just like every RA before it, matters. It will be the first time Becky Higgins addresses the RA as OEA President. There will be important legislative updates. I'm sure there will be information about the upcoming Gubernatorial race and our fight against so-called "Right to Work."
Think RAs don't matter? Consider our last one. I knew going into the RA that delegates would be voting for a new president and vice-president of OEA. I also knew that Ed Schultz, host of the "The Ed Show," would be speaking as would Ed Fitzgerald. What I didn't know was that there would be New Business Items, regarding support for Common Core, introduced by delegates. In recent months, I've heard from teachers, through Facebook, Twitter and in person about their Common Core concerns. Some wonder why OEA supports Common Core. My response to every one of them is the same. At the last RA, items were introduced to support Common Core, and there was not one person who spoke in opposition. The passage of the items at the RA means that OEA now officially supports Common Core.
Nobody knows, going into the RA, what New Business Items will be introduced. That's why it's important for every local to send delegates, so that the sentiments and opinions of teachers all across the state will be heard and considered.
I hope this weekend's RA brings many first-time delegates who are eager to learn more about OEA. My advice to them is simple. Listen to all the speakers and reports. Don't worry if you don't understand all the information that's presented. Take a break every once-in-a-while, stretch your legs and go visit the booths in the lobby, especially the one where you can contribute to FCPE. Most importantly, resolve that this will be the first of many RAs you will attend, and that, with every successive RA, you'll be better informed and better able to make a difference on behalf of your colleagues and public education.
By Dan Greenberg, Sylvania Education Association
[typography font="" size="16″ size_format="px" color="#005fa1″]The Fall 2013 Representative Assembly begins at 9 a.m Saturday, December 7, 2013 at Franklin County Veterans Memorial in Columbus. This year's theme is Educators Rock! Delegates will be seated in the auditorium. Guests are welcome in the designated guest seating area in the balcony. If you're posting from the RA, be sure to use hashtag #OEARA. If you can't attend, you can still follow along with what's happening on
Facebook
and
Twitter
.[/typography]