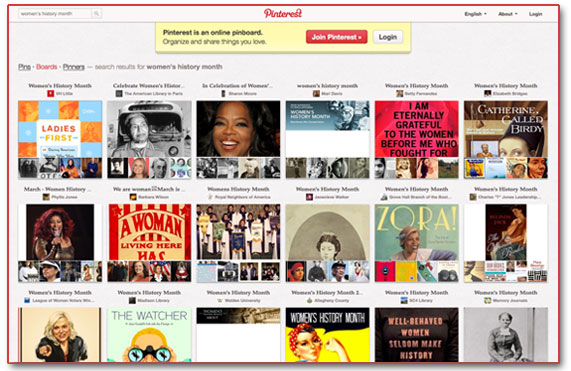 Being new to Pinterest, which advertises itself as "a tool for collecting and organizing things you love," I was curious to see what it had to offer on women's history month, the month that honors women and their accomplishments.
For those unfamiliar with Pinterest, the following excerpt from Pinterest For Dummies sums it up pretty well:
Pinterest is an online pinboard, a visual take on the social bookmarking site. Unlike other social bookmarking sites, such as Digg and StumbleUpon, content shared on Pinterest is driven entirely by visuals. In fact, you can't share something on Pinterest unless an image is involved.

Like every other social media site, Pinterest has its own lingo:

When you share something on Pinterest, each bookmark is called a pin.
When you share someone else's pin on Pinterest, it's called a repin.
You group pins together by topic onto various boards or pinboards in your profile. Each board mimics a real-life pinboard.

You can share images you find online, or you can directly upload images onto Pinterest. Using the Pin It button, you can share directly in your browser from any web page. You can also share your pins on Twitter and Facebook.
After you set up a Pinterest account, you can search the site for "women's history month" and a page will appear with thousands of "pins." If you then click on the "Boards" button, thousands of boards will appear with even more pins.
You will be amazed at the information you can find by searching through the boards. Here is a list of some of the best boards for women's history month resources.
Library Boards:
Stem Boards:
Children's Books:
Memory Projects:
Universities and schools:
Websites:
Museums:
Best Board for Women's History:
By Susan Ridgeway, Wooster Education Association