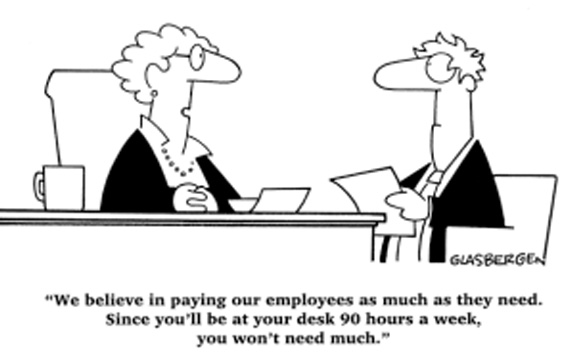 There is a fair amount of discussion regarding the "Right to Work" initiative that is being debated in many states. In short, I have experienced this "right" firsthand. Before I taught science in Columbus City Schools, I was employed at a private, non-parochial school in Columbus, Ohio. There was no union. There was no science department. For most of the 11 years I taught there, I was the science department.
I started out with 13 preps a week. Yes, that is a "1" and a "3". In addition to teaching 5th grade through 8th grade science I also taught drama, gymnastics, second grade math, reading, and whatever else was needed. I didn't mind because I was happy to have a job and I was young. I started there at the age of 26. My initial contract was for $18,000 a year in 1987. However, in order to earn the full amount of my contract, I had to work summer daycare. If I only worked September to June, I got 3/4 of that amount.
I worked very hard. I taught exceptional children — and kept reassuring myself of that every time I got my paycheck. When the school expanded to have a campus in Powell, I worked half a day in Columbus and drove to Powell while I ate my lunch in the front seat of my car, hoping I had remembered to grab all of my materials. Eventually, I taught full time in Powell: chemistry, biology, environmental science, all the middle school science preps, and drama. I accomplished a lot. At the Central District Science Fair our small school went from 3 participants to 12 and all of my students passed the then NGPT.
When Columbus City Schools hired me, my income went up by $14,000 a year without having to teach summers, despite the fact that they only allowed me 5 years of credit. And I will tell you a secret. Before the private school, I taught for two years in Miamisburg City Schools where we had the choice of opting out of paying union dues. I did take that option because I didn't think that I needed other teachers to negotiate for me. I was wrong. I learned, the hard way, that teachers need each other. I learned that we have to fight for our rights, as I stood on the statehouse lawn several times demonstrating against SB5.
"Right to Work" puts us against each other. At the private school, we were warned NOT to tell other teachers what we made for an income. I would rather have my colleagues in my corner. And I don't think I am any less accomplished now with a reasonable schedule and the right to be heard and treated fairly.
By Linda Kennedy, Columbus Education Association